Metro Offices Employee Spotlight: Amy Stiver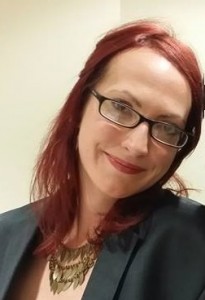 The positive energy Amy Stiver brings to her position at Metro Offices isn't limited to one center. In her job as Center Support Manager, Amy moves between all nine locations as needed, constantly working to improve and streamline daily operations and communication with clients. Amy loves the people she gets to interact with on a daily basis. "Travelling around gives me the opportunity to work with our fantastic teams and meet our diverse client base. I am constantly learning new things every day!"
Amy is a Reston native with a background in business management. She just celebrated her seventh anniversary with the company. "I am an optimist at heart, and I am always looking for the best in things and situations," she says. "I have excellent interpersonal skills and am able to diffuse tense situations with grace. I love being creative and enjoy using my skills to create products that Metro Offices, our clients, and myself are proud of."
Amy describes herself as an artist who loves to sew everything from dresses to Halloween costumes. She even has a sewing room in her apartment! She also enjoys running, reading, travelling and attending concerts. "I love to explore restaurants I have never been to and find comfortable spots to enjoy the sunshine," Amy says. She makes it a point to hit Stone's Cove Kitbar in Herndon with her girlfriends for Ladies Night. "They have amazing tuna sashimi and pear martinis!"
Amy and her boyfriend, Steve, will be celebrating five happy years together this May. She also enjoys a close relationship with her parents. "I consider myself quite lucky to have them both living very close by, and to have the kind of relationship I have with them." Her other love is a 2-year-old rescued longhaired cat nicknamed "Maya Bean."
While she is not a huge fan of television, lately Amy has gotten into a few Netflix series, including Orange Is The New Black and House of Cards. If she could go anywhere for a day, "I would go to an exotic Caribbean island and lay in the sun. I don't know that I could come back after just one day!"
This past November, Amy accomplished one of her long-term goals: to buy a place of her own. She can now focus on another dream, to one day own her own boutique selling her clothing and jewelry designs.
Amy has wise advice for those wanting to find happiness in life. "Be a reflection of what you'd like to see in others," she says. "If you want love, give love. If you want honesty, give honesty. If you want respect, give respect. You get in return what you give."
Thanks, Amy, for your positive attitude, and for being an important part of the Metro Offices team!