On-Demand Washington, DC Meeting Space: The Smart Solution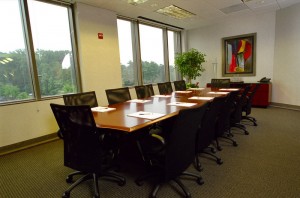 Do you need to plan an important business meeting, yet lack a suitable location? Let Metro Offices put your mind at ease. Our on-demand DC meeting spaces enable your business to host meetings of any size in a fully-equipped, professionally appointed environment. Whether you're conducting a team training or a high-tech presentation for potential clients, we're ready to help you achieve business excellence at any of our nine convenient locations – and all at a moment's notice. Here are more reasons on-demand meeting rooms are a smart solution.
On-demand meeting rooms are easily accessible.
With nine locations to choose from in Northern Virginia, Maryland and Washington, DC, meeting space at Metro Offices couldn't be more accessible and convenient to arrange. Simply make a reservation online and get instant access to video, audio and/or web conferencing, white boards, overhead projectors, flip charts, copy machines, technical support and even catering services for your guests. Our on-site administrative support staff will make you feel at home and ensure your meeting runs smoothly.
On-demand meeting rooms impress clients and team members.
A prestigious office location boosts your professional image. Which location is more likely to seal the deal: a nameless office building on the outskirts of town or an elegant business address in the heart of the city? Show your prospects and team members that your business is serious about excelling with a professionally appointed meeting room at one of our premier Capital-area office locations.
On-demand meeting rooms save money and let you achieve business excellence.
Invest your capital in business growth rather than property management, expensive technology and long commutes. On-demand means you only pay for what you need, when you need it. With a Metro Offices meeting room, you get everything you need to create a professional meeting atmosphere for prospective clients – at a price your budget will love.
To inquire further about Northern Virginia, Maryland or Washington, DC, meeting space, please give us a call at (703) 871-5208.
Looking for meeting rooms outside the DC area? Metro Offices can help you access more than 650 locations worldwide, so no matter where you are, you'll have the facility and features you need to conduct important business.