The Best Colors for Better Office Environments
Colors can affect us in very subtle ways, often influencing our mood. In the office, that could make all the difference towards a pleasant yet productive workplace. For this article, Metro Offices looks at how carefully choosing your office's colors can mean a boost in creativity, happiness, productivity—and much more.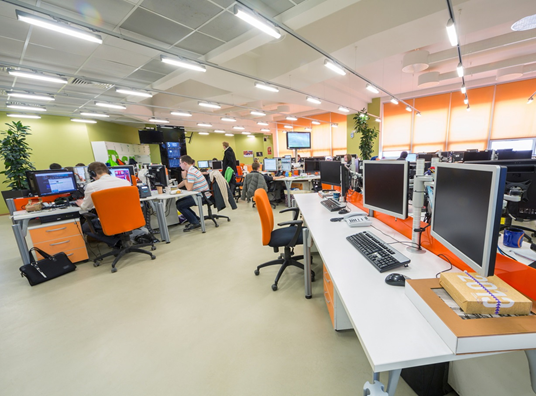 Orange
Said to symbolize vitality and endurance, orange is the color to get for your office space in Arlington, VA when you want to encourage creativity. Some sources also say that it inspires endurance.
Blue
When you look at blue, you often think of the ocean and its calming influences. That's why you should get this color if you want to create a relaxed and happy atmosphere, as well as a sense of trust.
White
A neutral color that some say isn't even a color at all, white is a safe choice that is used to create a feeling of wider spaces—which also promotes creativity.
Red
There's a reason why "seeing red" is an expression—it's often wrongly associated with rage and anger. Red, however, also elevates heart rates—a common sign of excitement perfect for encouraging action in the workplace.
Yellow
Associated with sunshine, you pick yellow when you want to convey a sense of "bright" optimism in the most literal way possible.
Green
We speak of "green" initiatives when we talk about saving the environment—it's a color that is strongly linked to life and growth. It's proven to encourage growth of a more cerebral kind—perfect for when you need a boost to creative thinking.
How It Works
The key to effectively applying color as part of your workspace solution in Arlington, VA or anywhere in the Metro DC area is to figure out which effect is most important to you. A monochrome arrangement might work best for the walls, along with a couple of office equipment set in different yet complementary colors. You'd want to avoid an obvious color clash that's sore on the eyes while avoiding monotony at the same time. Otherwise, your arrangement could induce boredom and listlessness in both visitors and employees.
The best office spaces are all about balance—maximizing different elements and factors to work out something that benefits your people the most. At Metro Offices, we offer a wide range of services that you would need to run your company effectively. We offer secure and speedy Internet connectivity, tech support services, courteous receptionists, mail and package delivery management, and so much more. Give Metro Offices a call today and we'll be more than happy to help you create an office plan that fits your needs and budget.