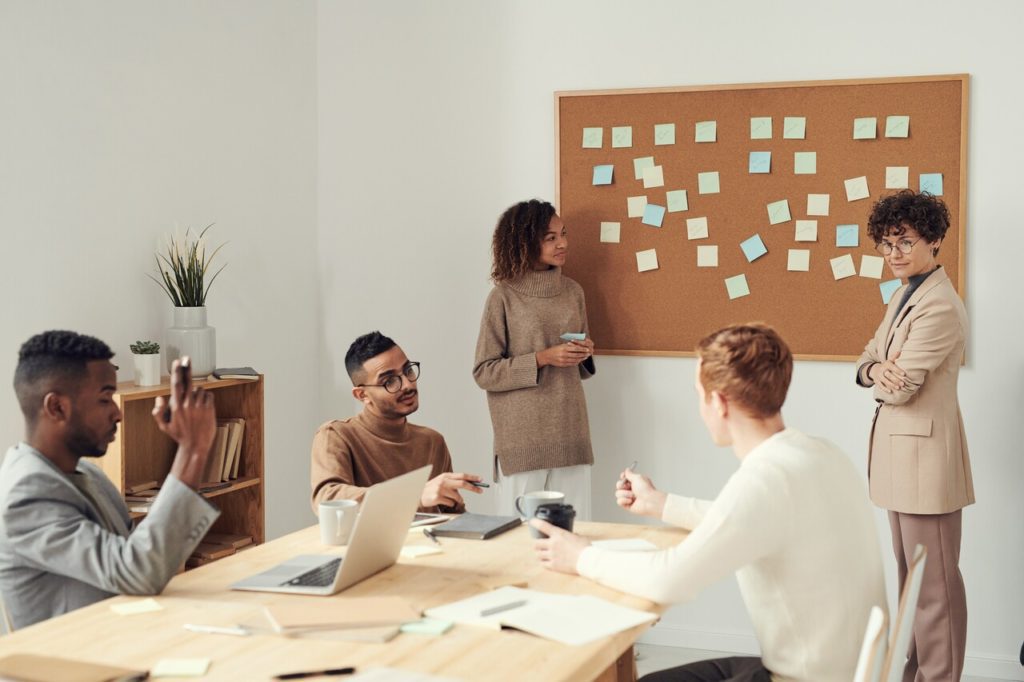 7 Ways to Welcome Employees Back to the Office
With 71% of full-time employees working from home throughout the COVID-19 pandemic, heading back to the office is a reality many faces with apprehension. Having been at home for more than two years, some teams have shifted to fully remote work, while others look forward to working in person once again.
The spread of COVID-19 has slowed, serving as a sign of encouragement for those hoping to get out of their house and back to the office. However, this transition can come with mixed feelings, as many have gotten comfortable with remote work.
Some are eager to get back to what their job was like pre-pandemic, while others aren't ready to give up the freedoms that come with working from home. And to retain employees and improve morale, business owners need to be conscious of both sides. It's essential to accept each situation and empathize with all team members.
If you're hoping to facilitate a transition from working from home without upsetting employees, there are a handful of things you can do. Here are 7 ways to welcome employees back to the office.
Give your team advanced notice
It's one thing to shift back into in-person work after 2+ years away, but it's another to try and enact such a significant change overnight. Avoid letting employees know about their new expectations on Friday, insisting they show up ready to go on Monday. People will understandably need time to adjust their schedules and routines.
Some of your team members may need to secure child or pet care, take their car in for maintenance to prepare for a new commute, or even update their shipping addresses. Keep in mind that, similar to the adjustment period for WFH, we'll need to adjust for life back in the office. Should you hope to get back to work in person, be sure to give your employees advanced notice.
Make it a group effort
All of your team members should be involved in the conversation surrounding working in the office. To ensure everyone feels comfortable with the transition, ask for opinions and ideas to make the shift easier for employees. Chances are, your business can make small changes to motivate its team members to get back into the office. Listen to their thoughts and create a plan that keeps their preferences in mind.
Prioritize open communication
As you're having these important conversations with your employees, remember to prioritize open communication and honesty. Some team members may not feel comfortable sharing their thoughts, so creating a form or survey where they can give feedback anonymously may be helpful. Let them know that you care about their well-being and will use their thoughts and opinions to create a healthier working space for all.
Upgrade your office space
Though it can be challenging to compete with the comforts of working from home, you can still update your space with comfortable furniture, a well-stocked fridge, a coffee bar, and additional upgrades your team will appreciate. With such a massive transition taking place, it's vital to think about how you can make your workspace as pleasant as possible.
Include your employees in this conversation as well. Ask them what an ideal working space looks like to them. Then, take this feedback and implement your updates accordingly.
Revisit boundaries and expectations
Many of our working habits have changed as we've adapted to a work-from-home lifestyle. The traditional office hours of 9-5 were abandoned for many, as some found it easier to get a late start in the morning and work into the night to make up for things. Schedules are no longer as structured as they once were before the pandemic.
But sometimes, these flexible hours don't work well in an office environment. This is why it's crucial to set clear expectations on when and where your employees should be getting their work done as you transition. Again, make this a two-way conversation, encouraging team members to set boundaries, such as shutting down their devices when they leave the office.
Limit large meetings
Hopping on a Zoom call at a moment's notice has become a reality for many, but in-person meetings can require more time and energy for all involved. Your first instinct may be to host a large meeting with everyone coming into the office, but keeping things limited will help maximize productivity. Sometimes, the more voices that chime in, the harder it is to get things done.
Start with one-on-one check-ins with each of your employees before bringing them all together. Encourage communication between your team members, of course, but eliminate the pressure they may feel to get together before they're ready. Then, as their comfort builds, you can gradually shift back into larger spaces with greater headcounts.
Consider a hybrid schedule
The reality is many workers simply don't want to head back into the office at all. Instead, they appreciate the freedom of taking breaks when needed, running to appointments, or finishing the laundry when they have a spare chunk of time. So to avoid pushing team members away, think about transitioning to a hybrid schedule first.
You may start with three days inside the office and two at home, possibly staggering who's in the office on any given day. Ask your employees what would make this shift easier for them. This way, you can still reap the benefits of in-person collaboration while your team maintains the flexibility they grew to appreciate over the past few years.
If you're hoping to create a comfortable, inviting space for your team as they get back to the office, Metro Offices is here to help. We can customize various flexible workspace solutions for your unique work style and needs.
Send us a message today to learn more about how we can help you build excitement around coming back into the office!
---
Women-owned and locally-focused, Metro Offices has been a catalyst for workspace innovation since 1989 and continues to be the premier provider of virtual and in-person office space in DC, Maryland, and Virginia. Serving over 30,000 businesses, our high-touch services and solutions are designed to help entrepreneurs, founders, and CEOs scale their businesses and optimize their professional reputations.