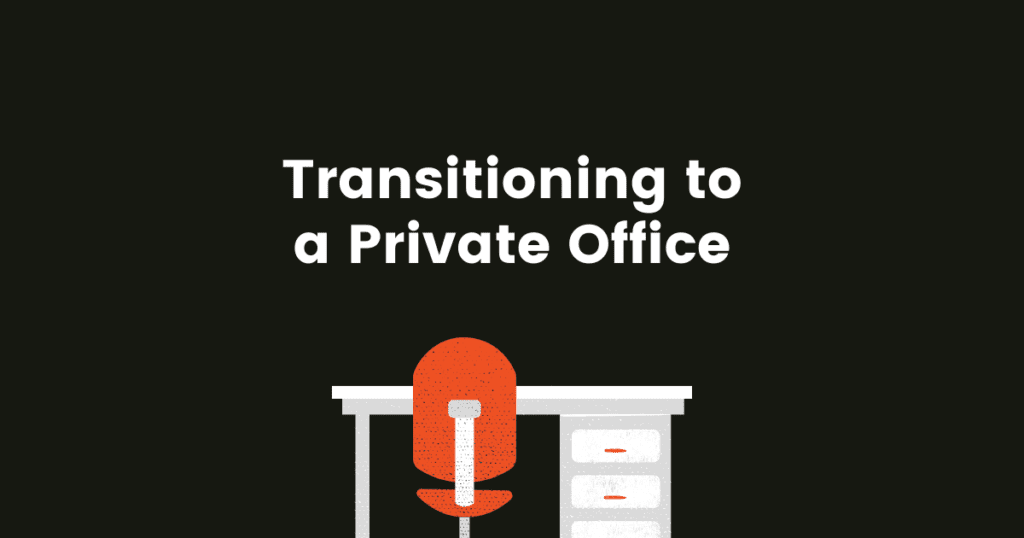 How to Successfully Transition to a Private Office
The COVID-19 pandemic may have hastened its widespread arrival but increased remote work and the use of coworking spaces and private offices in lieu of long-term, expensive suite leases has been a long time coming. Even large companies with employees are seeing the light, giving team members the green light to telework and rent private offices and/or conference rooms at coworking spots on an as-needed basis. And why wouldn't they?
Top coworking spots, such as Metro Offices (the leader in coworking in DC for more than 30 years), offer both entrepreneurs and employees unparalleled professionalism, convenience, and cost savings over multi-year office-space rentals.
But with millions of people having worked from their homes for nearly a year now, making the switch to an office outside the home — while welcome and chock-full of benefits — can be an adjustment. In the following sections, we lay out our roadmap for transitioning from home-based work to work in a private office at a coworking space.
Be flexible
If you're one of the many professionals who's been toiling away from a kitchen table, sofa or study-cum-guest room for the past 12 months, you may be chomping at the bit to get out of your house and into a setting better designed for work. But with pandemic-spurred changes to the schedules and offerings of schools and many businesses still in place, your altered itinerary and lifestyle may not yet allow you to dive full-time back into a private office away from home.
Luckily, many top coworking spots offer flexible membership plans and pricing. Professionals in and around DC can join Metro Offices, which allows members to rent what suits them — and nothing more. We will work with you to create a customized workspace that includes multiple solutions to suit your needs.
Need a private, lockable office (with lockable storage space, to boot) just a few days a week? No problem. Want to use a hot desk or huddle room one day a week? You're covered. Is a client coming into town with colleagues? Rent one of our fully appointed conference rooms at the location of your choice — for just a few hours.
Inquire about security
Just because you've had it with home-based work is no reason to rush into membership with the first coworking spot you find. Depending on the line of work you are in, security may be of crucial importance to your business. Fear not; accessible, affordable office space is still a very real possibility for you.
Once you've found a coworking space you like, ask management about the digital privacy and security measures it takes. Ideally, the company will have a full technology team whose members can answer all your questions. If they don't and they can't give you satisfactory answers concerning the privacy of your information on their network, you may want to consider shopping around some more.
At Metro Offices, we have a dedicated, award-winning IT team ensuring the security of our high-speed, password-protected, reliable Wi-Fi — at each of our nine locations. Our tech team is on-call to help members with any technology-related issues that may arise, be they of the network- or hardware-support variety, so you can rest assured that you're in good hands, technologically speaking.
If your business and its information are particularly sensitive, consider investing in a virtual private network. A VPN will "mask your internet protocol (IP) address so your online actions are virtually untraceable," Steve Symanovich writes in a piece for NortonLifeLock.
"VPNs use encryption to scramble data when it's sent over a Wi-Fi network. Encryption makes the data unreadable. Data security is especially important when using a public Wi-Fi network, because it prevents anyone else on the network from eavesdropping on your internet activity. There's another side to privacy. Without a VPN, your internet service provider can know your entire browsing history. With a VPN, your search history is hidden. That's because your web activity will be associated with the VPN server's IP address, not yours."
Get the most out of your membership
At Metro Offices, our coworking spots aren't just about working. Many of our locations are in the heart of prime shopping, dining and entertainment districts, and more than a handful boast on-site cafes, wine bars and furnished terraces for outdoor lunches or recreation. Every one of them also has a fitness center with regularly cleaned, sanitized, well-maintained and top-of-the-line machines and equipment.
A great way to ease back into working out of your home is to take a holistic approach to things. Remind yourself that you are more than your business or your role as an employee for a company. Particularly now, when mental and physical health are of paramount concern to everyone, take time to look after yourself. Come into one of our locations a half-hour before you planned to begin work — and get in a mood-boosting workout. Then treat yourself to a healthy, on-the-go breakfast at one of the many eateries within walking distance of our office spaces before getting down to business.
"[E]ven a small amount of activity can make a huge difference to how well you think and feel," a recent post on HealthGuide.org reads, in part. "In fact, exercise is one of the most powerful tools we have for staying physically and mentally healthy. Exercise can help ease depression, stress, and anxiety, and aid in the management of chronic conditions, such as high blood pressure and diabetes. By finding new ways to get moving and stay motivated, you can take charge of your mood and well-being and regain a sense of control during this time of great uncertainty."
Figure out what works for you
Try not to feel pressured to return full-time to a professional office setting if that doesn't work for you yet. As we mentioned earlier, given all the schedule changes that remain in place for companies, businesses and schools everywhere, working Monday through Friday from a private office at your new coworking space may not be feasible. What's more, you may not even be ready to do so, wanting instead to remain home some days for reasons of both health and convenience.
Give yourself the freedom to mix things up, and come in when you can and want to — and stay home when that works better for you. Remember, one of the great things about coworking spaces is and has always been their flexibility. At Metro Offices, we're here to help you do your best work, whether that means a private office every day or some days, a conference room once a month or once a week.
_________
When you're ready to get back to a professional office setting, come to Metro Offices. Browse our locations.
Other articles that may interest you:
Working Remote Guide: Tips for Success
How to Tell it's Time to Go Back to Your Coworking Space in DC