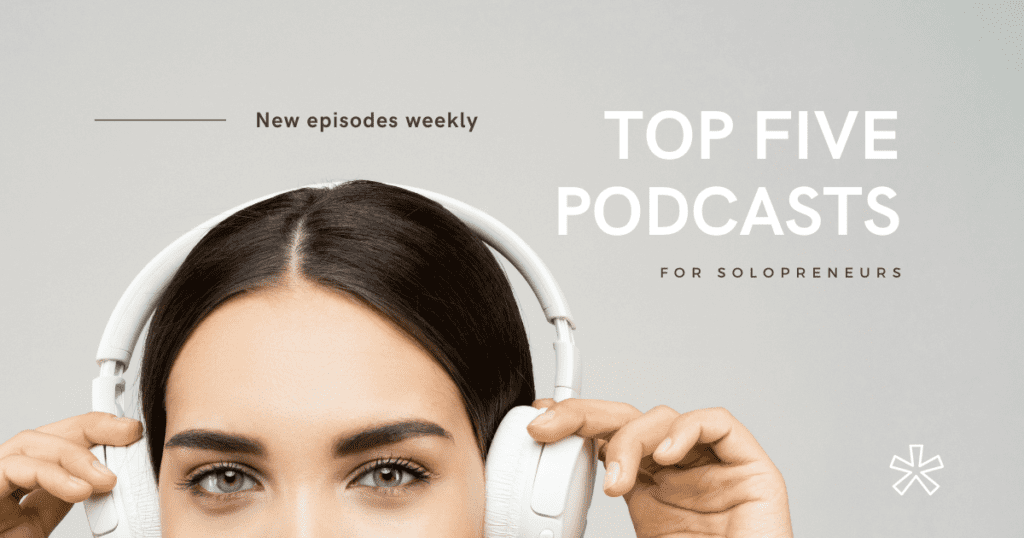 Top Five Podcasts for Solopreneurs
Since their advent nearly two decades ago, podcasts have exploded in popularity. Three-fourths of the U.S. population is now familiar with the audio-show phenomenon, and more than half of all Americans have listened to at least one themselves. It's no wonder, then, that there's practically a podcast out there for every audience. Among the most popular is the entrepreneur genre, which regularly garners millions of listeners from around the world.
Below, we discuss our top five podcast picks for solopreneurs. We're sure these shows will make a subscriber out of you!
"Unemployable"
If you're a newly minted or aspiring solopreneur who's always felt out of place working for someone else, this is the podcast for you. Hosted by Copyblogger founder Brian Clark (who's started multiple seven-figure businesses and one eight-figure business), this consistently well-rated podcast features real-life success stories and useable tips for the ambitious solopreneur who is "looking to live the "7-Figure Small" lifestyle" and become their own boss. Guests have included entrepreneur Gary Vaynerchuk, "Being Boss" podcaster and author Emily Thompson, and author and former dot-com executive Seth Godin.
"How to Start a Startup"
It's all in the name with this podcast: If you want to start your own startup, look no further. Hosted by the former president of Y Combinator, the seed-money startup accelerator that helped launch Airbnb and Doordash, "How to Start a Startup" gives listeners solid business advice from Altman and others at Y Combinator. Originally started as a lecture series at Stanford University, "How to Start a Startup" is now available to everyone — so we can all learn from the lessons of big names in business, including former Yahoo! CEO Marissa Mayer and Facebook co-founder Dustin Moskovitz. The show covers how to get and grow a customer base, how to succeed in sales and marketing, how to fundraise, and more.
"The Tim Ferriss Show"
If you're one of the million devotees of the how-to bestseller "The 4-Hour Workweek" you'll recognize Ferriss' name. In his podcast, Ferriss engagingly interviews famous people from a wide array of fields — professional sports, journalism, finance, and more — and helps listeners glean helpful life and business advice from each one. Guests have included author Neil Gaiman, pro surfer Laird Hamilton, TED Talk celebrity Dr. Brene Brown, and the "Governator" Arnold Schwarzenegger.
"She Did it Her Way"
Each episode of "She Did it Her Way" features a different woman entrepreneur who quit her 'nine-to-five' and started her own business. Hosted by former Target employee Amanda Boleyn, the podcast has become so successful that Boelyn is now able to coach entrepreneurs full-time. Episodes have included "3 Ways to Replace Your Income and Leave Your 9-5," "Do These 3 Things Before You Quit Your Job" and "How a Bridge Job Can Help You Take Your Ultimate Leap." This show is a must for anyone — female or otherwise — who is considering making the move from someone else's employee to solo- or entrepreneur.
"Millionaire Mindset"
The title of this podcast gives hope to all those reaching for a seven-figure income: Perhaps success is all in the way we think. That is, in large part, what the podcast is about. On it each week, entrepreneur, real estate investor and show host Matt Aitchison interviews a millionaire or "thought leader who is living the "Whole Life Millionaire" lifestyle and taking their wealth far beyond what dollars can buy," in Aitchison's words. Recent past episodes include "7 Truths You Must Accept To Unlock The Next Level Of Life And Business" and "Don't Let Your Past Equal Your Future, and Unleash The Billionaire Within."
_____________________
Have you recently made the leap to solopreneur? Stop wasting your savings on a costly office lease and come to Metro Offices instead. In addition to private office space, we also offer professional, affordable virtual office services. Check us out today!
Some other recent articles you might enjoy:
Five Books Every Solopreneur Should Read
Three Blogs Every Entrepreneur Should Read Now
Your Business Continuity in Times of Crisis: 3 Tips for Entrepreneurs