Our Idyllic Farragut Office Center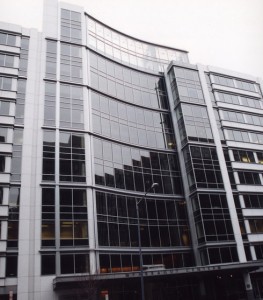 At Metro Offices we strive to find the best, most convenient and most prestigious office locations in the DC metropolitan area because the location of your business is vital to the success of your business. At Metro Offices we understand you want to give your clients a professional impression of your business and that your employees deserve to work somewhere that makes their workday easier and accommodates their needs; that's why our Farragut Office Center is such an ideal location.
Our advantageously located Farragut Office Center is metro accessible, is only two blocks from the White House and steps from the power corridor of K Street. You are literally right in the heart of downtown DC, and not only that but the design of the building alone will make you feel assured your clients will be impressed with you and your business.
This architecturally impressive building boasts a 10-story entry atrium with floor-to-ceiling marbled walls and an elegant waterfall. An expansive roof top terrace, and state of the art health and fitness center are just a few notable amenities. Quick and easy access to transportation, shops and restaurants make the Farragut Office Center a prime choice for your Washington office.
We have a 75-person conference center that is available for your use, along with a score of other convenient and professional amenities. Some of which include:
Farragut Park
Concierge Service
Fine Shopping
Exclusive Restaurants
Video Conferencing Facility
Trust us when we tell you, you don't want to miss out on this idyllic location for your business. Visit our website for a virtual tour and photos of our Farragut Office Center.