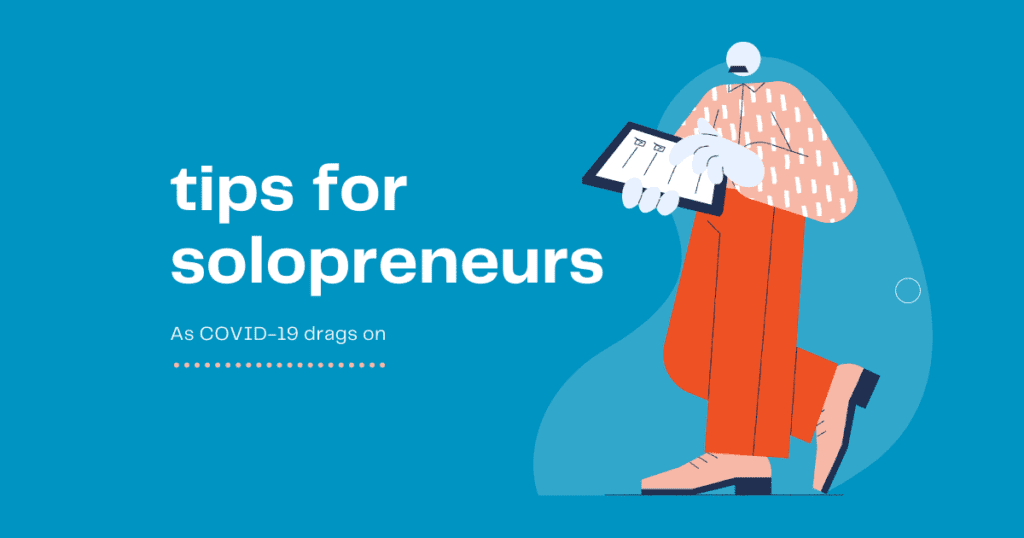 Three Tips for Solopreneurs as COVID-19 Drags On
As we pass the seven-month mark of the COVID-19 outbreak in the United States, pandemic fatigue has set in. Most knowledge workers who previously did their jobs from a central office are still working from home. Millions of children recently began their school year 'virtually' — and so remain in close proximity to their working parents. People ask themselves on a daily basis, "When will things go back to normal?"
Unfortunately, no one quite knows. But there's hope for solopreneurs and other small-business owners anxiously awaiting the end of the pandemic. Here, we give our top three tips for getting through these shared travails and emerging even stronger on the other side.
Take Care of Number One
No surprises here, but people's mental health has taken a toll since the virus-related lockdowns began in March. Some 40% of people have reported struggling with their mental health and substance abuse in that time, according to the Centers for Disease Control and Prevention. Many people are also exercising less, which could be a contributing factor to the deterioration of our national mental and emotional state.
Take charge of your health in all respects. Make a concerted effort to move; yoga, walking, running and high-intensity interval training are all great options. Many fitness apps are now even offering free versions (we love the versatile Nike Training Club).
If you think your mental health could use some support, there's no need to leave the house to get it. Video-chat-based services such as TalkSpace have trained counselors who can give affordable therapy sessions any place that has a good WiFi connection.
Think Outside the Box
Depending on the type of business you're in, the emergence of COVID-19 and social-distancing guidelines may have presented you with a significant challenge. Think of ways you can go around that challenge instead of letting it defeat you.
Perhaps you have a dog-walking business that's taken a hit this year. Circle back to clients who may have dropped your services, and offer 'contactless pick-up' of their furry friends. For example, they could put their dog in their fenced yard at an appointed time and you, face mask on and hand sanitizer at the ready, could come get the dog from the yard for the walk, then drop him or her off afterward. Payment could be done electronically or left in an envelope in the yard.
Maybe you have a tutoring business for struggling students and adults wishing to learn a new subject. Rather than the traditional, in-person sessions at your home or a coffee shop, suggest virtual meetings, perhaps at a reduced rate.
Are you a personal trainer? Virtual one-on-ones can work for you, too. Design personalized workouts your clients can do at home with their body weight or with items you know they have on-hand.
Keep a Closer-Than-Usual Eye on Finances
It may seem depressing, but make sure you keep an even closer eye than usual on your finances, particularly if you were operating with slim profit margins before the pandemic struck. Make sure you keep meticulous business records, especially if you plan to apply for any type of loan forgiveness (see the Small Business Administration's "Coronavirus Relief Options" here.) Then consider making an appointment with a bookkeeper who can help you stay on track.
Do you have a retirement fund, such as a Simplified Employee Pension (SEP) IRA? It may seem counterintuitive during a financial 'crunch' time, but do what you can to continue contributing to it — even if the amount is less than what you've typically contributed in years past. As 401(k) advisor Kyle Powers recently told U.S. News & World Report: "Continuing to contribute to your 401(k) or IRA, particularly during the down times, is essential to building retirement savings that will support your long-term goals."
____________
Sick of working from home? Check out Metro Offices' nine affordable DC and Washington-area locations. We adhere to strict coronavirus-prevention standards so you can work safely.
You might also be interested in these articles:
Five Books Every Solopreneur Should Read
Exploring the Power of Optimism for Entrepreneurs
Three Crucial Decisions for Solopreneurs