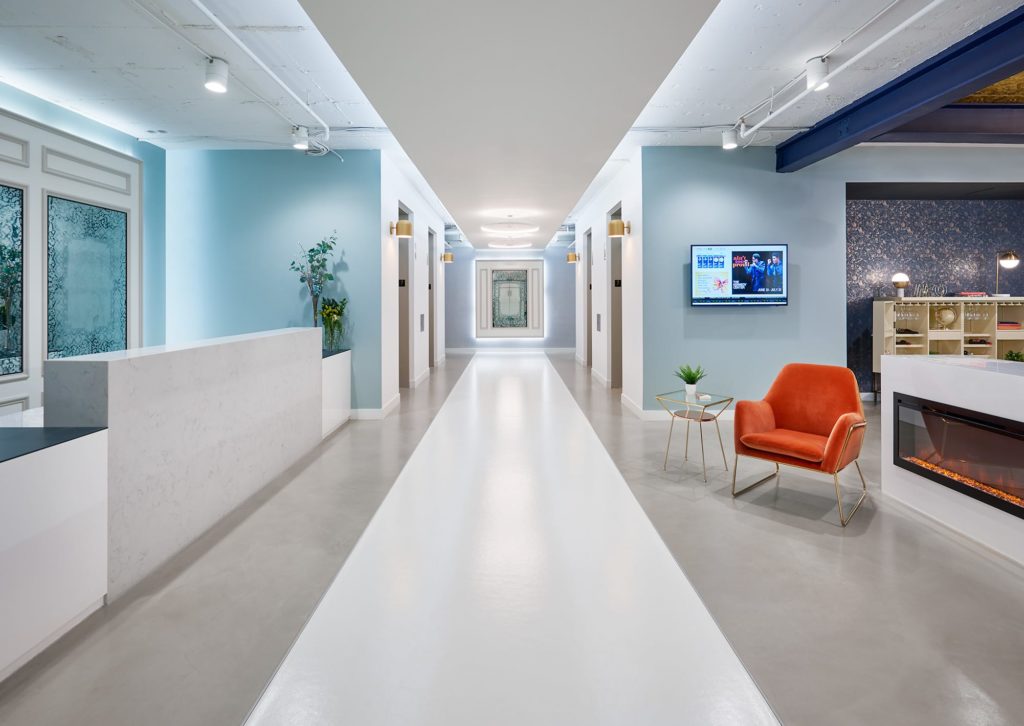 Brave New World: A Look at Future Office Design
Much of what we took for granted in our everyday work lives before March 2020 has changed, probably forever, owing to COVID-19. Mask wearing has become the norm rather than the exception, the business handshake will probably never regain popularity, and sneeze guards have made their way from the Sizzler salad bar to reception areas everywhere.
Below we discuss the top five changes you can expect in offices and coworking spaces going forward.
Fewer Touchpoints
Prior to the outbreak of the novel coronavirus, touching shared surfaces at the office was simply an unavoidable part of being out in public.
"We estimate that a typical worker comes into contact with approximately 40 different touchpoints from home to office – door handles, lift panels, coffee machines, printer buttons – on an average day," Lisa Mhaya, director of Workplace Solutions and Global Occupier Services for Cushman & Wakefield, writes in a recent piece for intheblack.com.
Expect that to change significantly in the office if you haven't seen it do so already. In will come much more widespread use of sensors to activate lights, open doors and turn on faucets. Why? These surfaces are hotbeds of virus activity.
Occupancy Planning
In keeping with the 6-feet-apart recommendation of the Centers for Disease Control and Prevention, we will keep seeing rooms and other spaces in offices operate at reduced capacity. A continuation of that precaution is advanced occupancy planning.
Using sensor technology and mobile apps, employees will be able to log onto a system to check the occupancy of their office spaces so they can come in when there are fewer people around. This may be used in conjunction with rotating work schedules.
Continued Distancing
If you desperately miss standing within inches of people in a crowd, you're going to be disappointed in this one. It's likely that we will continue to self-distance from one another in public, and that includes our time in office spaces.
If you think that makes coworking a virtual impossibility, though, think again.
At Metro Offices here in DC, we've placed 6-foot-distance floor decals throughout each of our nine locations, and implemented farther-apart seating in common areas, with reduced numbers of work stations in shared office spots.
Enhanced Air Filtration
Because the novel coronavirus may be transmitted "in aerosol form," you will also start seeing better, more sophisticated air-filtration systems in offices.
HEPA and UV filtration will become more commonplace at offices and top coworking spots everywhere.
'Smart' Workspaces
In line with being able to gauge the crowdedness or emptiness of office spaces with a few touches of a mobile phone, we can expect booking apps to become more ubiquitous.
At Metro Offices, we've been doing a version of this for years. Members have long been able to book private offices and conference rooms by location, date, and time. We'll probably see such space booking grow to include food ordering and light, temperature and sound adjustment capabilities, too.
_______________
Metro Offices locations are open and ready to serve your professional needs. Browse our locations today!
Other articles you might be interested in:
Work after COVID-19: A New Office Normal
Top Benefits of Working in a Private Office Space
Apple Video gets Real about Working from Home