Not All Private Office Spaces Are Created Equal
There are many options for private office space, especially in the nation's capital. Depending on what you prize most highly, you can choose from spots close to metro D.C., locations in the heart of dining and entertainment districts, workplaces with a quick commute to your home, and more.
But while nearby businesses and travel time should certainly be considerations when picking private-office space, there's more for a solo- or entrepreneur to consider. In the following sections, we go over the top five factors everyone should weigh when mulling over the private office spaces option. 
Shared amenities
You may think all you need in an office is a desk, a chair, four walls, and a door, but it pays to be more discerning than that in your search. When looking for a place to hang your professional hat, inquire about what your rental fee gets you. You may end up appreciating (or missing) certain perks.
For example, in addition to renting lockable private offices in multiple sizes, Metro Offices also offers all members a number of shared amenities. These include fast, secure Wi-Fi, unlimited gourmet coffee and tea, business-class printers, use of our state-of-the-art kitchens for food storage, preparation, and eating, and top-of-the-line fitness centers at each of our nine locations. Our friendly, trained reception staff, seated in the comfortable, elegant reception areas in every one of our offices, will greet and direct you, your clients, and your prospective clients warmly and professionally.
Speaking of clients, another shared amenity our members get is access to dozens of meeting, conference, and training rooms. Giving a big business presentation to a dozen (masked) attendees? Opt for one of our larger spaces. Need huddle space and a whiteboard to brainstorm with a coworker? Choose something more intimate. We have it all.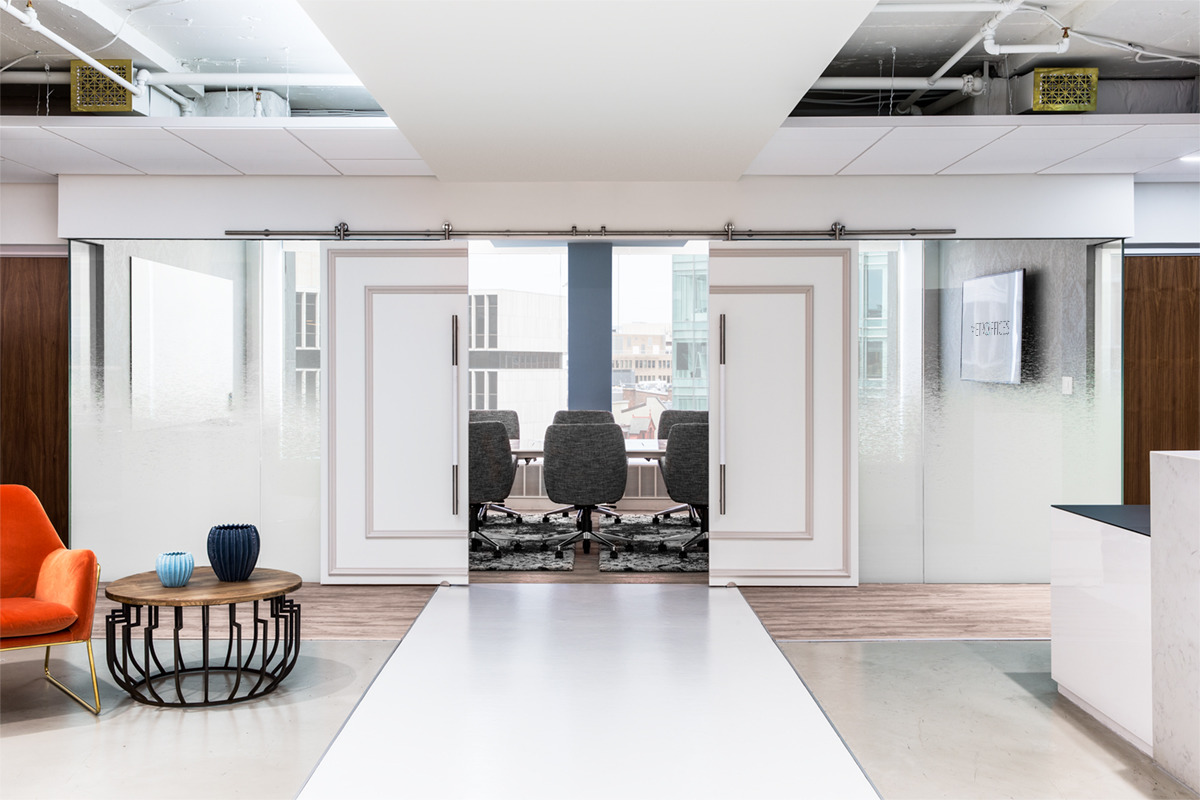 Technology
If you need internet connectivity to work — and really, in this day and age, who doesn't? — you will want to ask a lot of questions about the tech at the private-office-space provider you're considering. Sure, you could go with some cut-rate hole in the wall and save a bundle of money, but when it comes time for network troubleshooting at that location, you'd better be able to do it yourself.
Why not opt instead for technological support and affordability? Metro Offices have a fully staffed, award-winning technology team, which provides our members with live, on-call network, and computer help at any of our nine locations. Think you won't need any help? Think again. More than a third of people working remotely during the COVID-19 pandemic have their "work regularly disrupted by technology problems," according to workspace design and management publication Workplace Insight.
Whether you're working for somebody else or yourself, work disruption is problematic and could cost you and your company time and money. Metro Offices' tech experts are here for you, so you don't have to tolerate such disruptions.
Furnishings
Remember that budget coworking space we mentioned earlier? It's highly likely to have furniture, but not the kind designed with comfort, health, and/or the latest science in mind. At Metro Offices, we have ergonomic seating, high-quality, eye- and environment-friendly lighting, adjustable-height desks, and more.
Want to mix things up occasionally for a more relaxed atmosphere while you work? Grab your laptop and settle into a beanbag chair in one of our huddle rooms for an hour. Want to burn a few more calories on your fitness app today? Stand and work through lunch at one of the many clean, height-optimized countertops in our cafe areas or kitchens.
Now that warmer weather's here, maybe you'd like to ditch the indoor options altogether for a few hours here and there and work outside. When you're a Metro Offices member, that's possible. We have new, comfortable, modern furniture on all of our rooftop-terrace and patio spaces (not to mention reliable Wi-Fi).
But since you're likely to spend most of your time seated and working inside, the importance of excellent office seating bears repeating.
"While a dining chair, kitchen stool, or even the couch might be fine to work from occasionally, only specially-designed ergonomic office chairs offer comfort and the seat and back support that you really need … on a daily basis," Christian de Looper writes in a piece for Forbes.com. "Proper office chairs also offer varying amounts of adjustability — in height, tilt, and lumbar support — to tailor the settings perfectly to your needs, ultimately avoiding the neck and lower back aches and pains that come with sitting in a less than comfortable chair for an extended period of time."
Metro Offices have the top-quality seating your hard work deserves.
Cleaning services
Back to that budget coworking spot: It may look clean enough, but in the pandemic era, 'clean enough' is hardly sufficient. By contrast, all public surfaces at each one of Metro Offices' nine locations are regularly and frequently disinfected in keeping with guidelines put out by the Centers for Disease Control and Prevention. We have numerous hand-sanitizer stations, reduced common-area seating, ubiquitous social-distancing signage, and, of course, a strict mask requirement for everyone in all public spaces.
Location
It's not everything, but location matters — and in and around Washington D.C., it matters quite a lot. A wallet-friendly coworking spot won't end up saving you at all if it's so far away or takes so long to reach that you rarely use it.
Metro Offices' spots were all chosen with convenience in mind. No car? No problem. All of our offices are located near Metro stations or bus stops. Two are within a quick drive's distance of airports.
If it's excellent food or entertainment you seek, our offices are smack-dab in the middle of both. Walk from our Metro Center location to the Capital One Arena, Jose Andres' Oyamel Cocina Mexicana, and more. Working at our Chevy Chase spot? Run out at lunch and do some shopping — of the upscale or budget type, or both. J. Crew, Marshalls, Bloomingdale's, and more are all just a minute's walk away.
___________________
Ready to become a Metro Offices member? Contact us today.
Other articles that may interest you:
How to Successfully Transition to A Private Office
3 Benefits of Using Private Office Space in 2021
What Puts the "Work" in Flexible Workspaces?