Shared Reston Office Space: Ideal for Startups and Small Businesses
Daryll Zahorsky's article for About.com discusses the various things that make a shared office space setup beneficial to start-up businesses. According to Zahorsky, such a workplace configuration is the ideal option if you're looking to cut down on rental costs, practically because you will be paying about half the price of a non-shared office. Looking for a shared office space can be just as easy as looking for a regular office space, particularly if you're planning to put up a business in a competitive city like Reston, Virginia. Zahorsky writes:


What many start-up entrepreneurs or home office company owners come to realize, is an office space can be a large overhead expense and a cash drain on precious capital. Your industry, clients, or work sanity might require a professional looking office. Can your budget afford the high costs of office rental? A shared office space can ease your rental anxiety.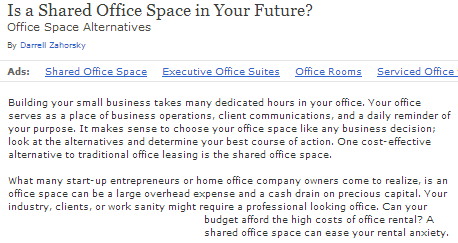 In a shared office space, companies utilizecommon amenities and resources. Occupants should therefore clearly determine their responsibilities beforehand. For instance, tenants or occupants should have equal rights and obligations toward all amenities in any shared Reston office space, except for certain conditions. Meanwhile, Zahorsky points out the following benefits:
Shared offices can provide a synergistic marketing solution. By pooling your office space with related professionals, you can enjoy the synergy of building your referral base with other similar non-competing businesses. For instance, a group of health professionals like a podiatrist, massage therapist, and chiropractor can all benefit from shared office space and expanding client exposure to a one-stop shopping solution. Even if you do not have a complementary business to share office space with, you can still have people to socialize with at the proverbial water cooler.
Before moving into a shared office, however,keep in mind that you will have to define your cost–sharing obligations in relation to the other party or parties involved. These details can serve you in good stead if, for example, one party uses certain facilities more frequently. However, such concerns pale in comparison to the long-term benefits you can get from a shared office setup. Count on a trusted workplace solutions expert like Metro Offices for the type of office space arrangement that suits your business needs.
If you own a startup business, it may take a while before you can afford to move into your very own office unit or building. Rather than build an office from scratch and risk hurting your finances, you may want to rent the type of shared office space in Reston that provides you with a prestigious business address and all the amenities you need.
(Article Excerpt and Image from Is a Shared Office Space in Your Future?, About.com)